Article Contents
Home Office Tips & Guides
See a plethora of articles that will elevate your desk setup or home workspace to the next level!
Find Ideas
The desk featured today is a beautiful, retro gaming setup. The color palette used is a great choice, the mix of cherry wood and dark peripherals is a recipe for a awesome dark themed workspace. This setup is extremely versatile and could be for various uses, but my guess for the main use would be either gaming, development or music production.
Minor Details Matter
When building a workspace, it's easy to become tunnel visisoned on the main parts of the setup, as they are the most important when it comes to optimizing productivity, but it's equally as crucial to make sure there are personalized touches added to give the workspace character.
This setup has expensive peripherals and luxury furniture, but the main aspects are enhanced by the small additions that wouldn't be so significant on their own. For example, the custom license plate mounted on the wall, along with the small toy car behind the monitors speaks volumes about the person behind the workstation. It gives the workspace a lot of character to complete the entire look.
Matching Color Palette
This setup has gone the extra mile when it comes to sticking to a theme. The entire workplace sticks to just 3 main colors: orange, black & red. The orange comes from the cherry wood desk, the sides of the speakers next to the monitor, and the RGB lighting along the edges of the headphones. The black is featured throughout the setup, but the most noticable pieces are the monitors, case, speakers & peripherals. There is then some hints of red throughout in the PC case, the toy car, & the RGB keyboard.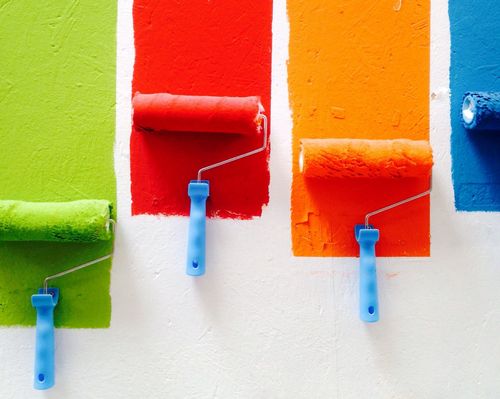 This setup is a masterpiece, all of the smaller details combine to reach a wonderful finished product. Not only does the workspace look good, but it's very spacious, room for expansion in the future, and it looks like it would result in a very productive working environment. Overall, this setup is most definitely a 10/10, if your setup looks anything like this one, you're heading in the right direction when it comes to aesthetics.
---
Featured Products Table
The products featured below are all of the products from the image of the setup that we thought would be useful to annotate. Please note many of the links are affiliates, allowing us to continue funding the development and continuation of Desk Setups.